Baby Dedications - Parkside Church
May 22, 2019
Sermons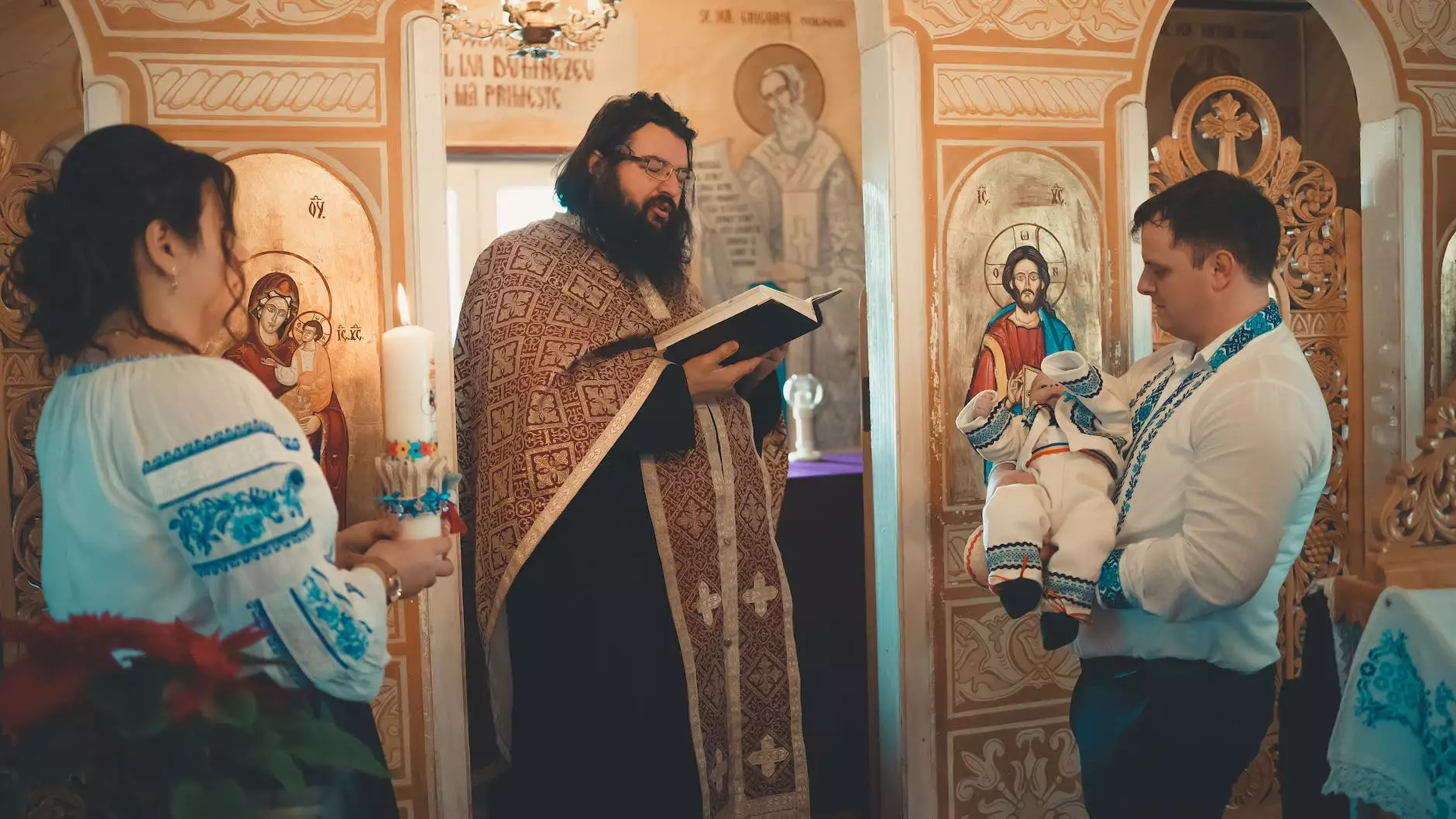 A Special Celebration and Faith Strengthening Event
Welcome to Baby Dedications - Parkside Church, organized by United City Church, a devoted community and society focused on faith and beliefs. Our baby dedication event is an extraordinary occasion where parents and families come together to celebrate the lives of our little ones and their important journey in faith.
The Significance of Baby Dedications
At United City Church, we believe in the significance of baby dedications as a special act of faith and commitment. Baby dedications serve as an opportunity for parents to publicly express their dedication to raising their child in a God-centered way, seeking the support and guidance of our faith community.
Join Us in the Celebration
We invite you to join us for an uplifting and heartwarming baby dedication service. Our dedicated team at United City Church has carefully planned and organized a memorable event for you and your family, filled with love, fellowship, and spiritual growth.
What to Expect
Our baby dedication ceremony is held within the warm and welcoming atmosphere of Parkside Church, where families gather to publicly dedicate their children to the Lord. During the service, parents have a chance to express their commitment to raising their child in a loving, faith-centered environment.
Throughout the event, there will be heartfelt prayers, inspiring music, and words of wisdom shared by our dedicated pastors and spiritual leaders. It is a time when our community comes together to show support and celebrate the blessings of parenthood.
How to Participate
If you would like to participate in our Baby Dedications - Parkside Church event, we encourage you to reach out to our church office or visit our website for more information. Our team is always available to assist you in making this important decision and guide you through the process of dedicating your child.
Open Doors to a Community of Faith
By attending our baby dedications, you not only join a cherished celebration but also open doors to a vibrant and supportive community of faith. At United City Church, we foster an environment where individuals and families feel welcomed, loved, and supported on their spiritual journeys.
Through various community events, United City Church aims to strengthen the bond between families, encourage spiritual growth, and deepen our collective connection with God. Join us today and experience the power of a close-knit community centered around faith.
Make a Lasting Commitment
Participating in baby dedications is a beautiful way to make a lasting commitment to your child's spiritual well-being. It creates an enduring foundation of love, faith, and support that will guide them as they grow. At United City Church, we are honored to be a part of this incredible journey and provide you with resources and a nurturing environment to help you raise children grounded in faith.
Join Us for Baby Dedications - Parkside Church
Are you ready to celebrate this momentous occasion and strengthen your faith as a family? We invite you to join us at our next baby dedication service organized by United City Church. Embrace the opportunity to connect with like-minded families, find solace in a loving community, and enjoy a joyous celebration of your precious little ones.
To learn more about our upcoming baby dedications, please visit our website, 'http://unitedcity.net/baby-dedications' or contact our church office directly. We look forward to welcoming you and sharing this meaningful experience together.
Experience the Love and Support of United City Church
At United City Church, we believe in the power of community, faith, and shared love. Our team is dedicated to offering a warm and inclusive space for individuals and families seeking spiritual growth and fellowship.
Join us today and discover a place of belonging, where your family is embraced with open arms and celebrated for the unique journey you are on. Experience the love and support of United City Church, and allow us to be a part of your incredible story.
Community and Society - Faith and Beliefs
Baby Dedications - Parkside Church is an event organized by United City Church, a community and society encompassing a wide range of faith and beliefs. We celebrate diversity and warmly welcome individuals and families from all walks of life, united in faith and a desire to build stronger spiritual connections.
Whether you are looking for a place of worship, seeking support, or simply exploring your own spiritual journey, our community offers a safe and nurturing space for growth and discovery. Be part of a community that celebrates individuality, fosters inclusivity, and values the power of collective faith.