Welcome to the Easter Egg Hunt at Midtown Church
May 9, 2019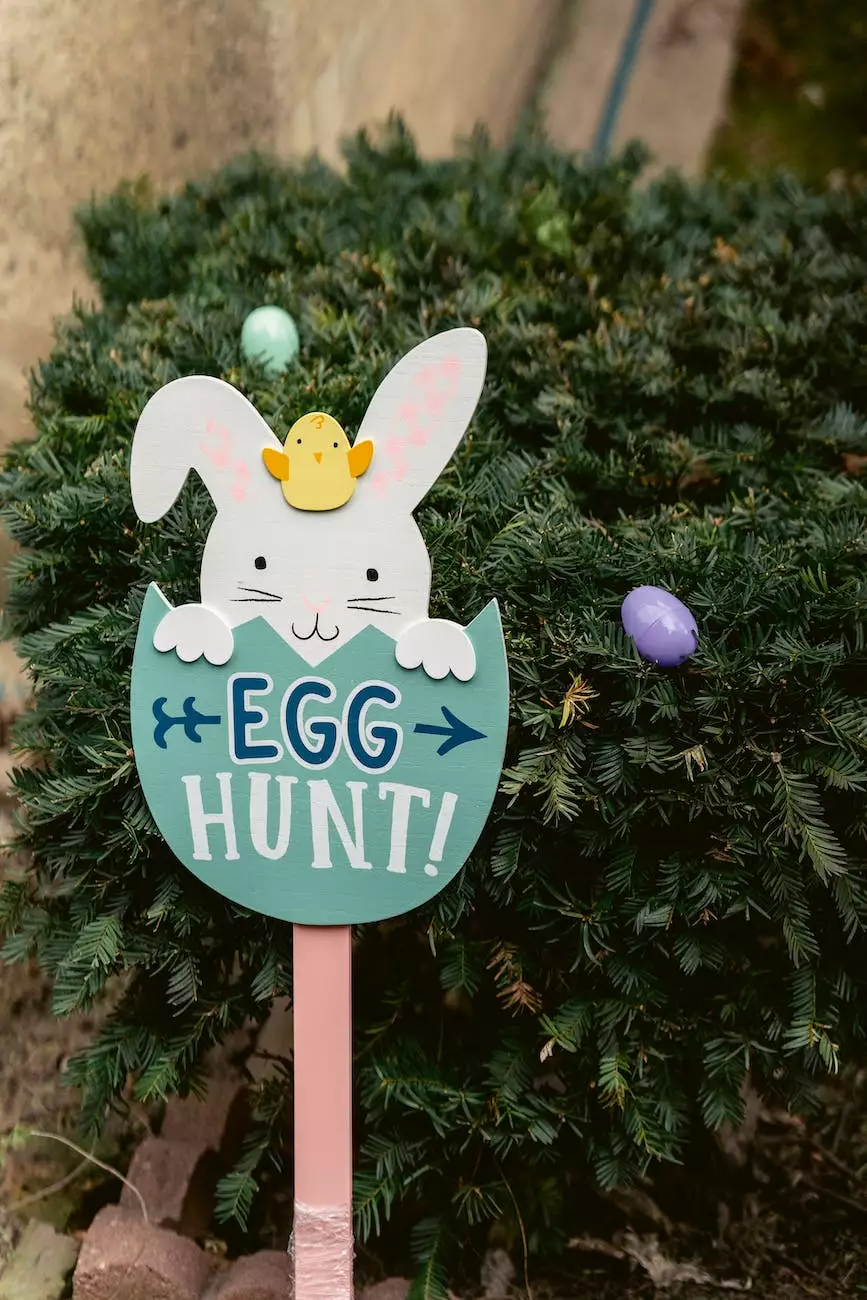 Join United City Church for a Memorable Easter Egg Hunt
Are you looking for a fun and entertaining way to celebrate Easter with your family? Look no further! United City Church is excited to announce our upcoming Easter Egg Hunt on Sunday, April 9th at 11:30am. Prepare for a joyous day of festivities and quality time spent with loved ones!
Indulge in a Day of Delight and Excitement
At United City Church, we believe in creating memorable experiences for our community. That's why our Easter Egg Hunt is carefully designed to provide endless delights and unforgettable moments for participants of all ages.
Fun for the Whole Family
Our Easter Egg Hunt is a perfect opportunity for families to come together and celebrate the spirit of Easter. Bring your children, parents, siblings, and friends along, and revel in the joy that comes from hunting for colorful eggs hidden throughout the beautiful grounds of Midtown Church.
Packed with various activities and surprises, our Easter Egg Hunt promises to keep everyone entertained. From face painting stations to photo booths, there's something for everyone to enjoy. Plus, our talented team of volunteers has planned exciting games and contests to create a festive atmosphere full of laughter and joy.
Discover the Joy of Giving
As a community-centered organization, United City Church believes in giving back. During our Easter Egg Hunt, we will be collecting donations for local charities that support families in need. This is the perfect opportunity to teach your children about the importance of compassion and sharing. Help us make a difference in the lives of those less fortunate.
Experience the Magic of Easter
Imagine the delight in your children's eyes as they embark on an adventure, searching for hidden treasures among the vibrant Easter decorations scattered around the church grounds. The excitement builds as they collect Easter eggs filled with sweet treats and small surprises.
A Time for Connection and Community
As part of the United City Church community, the Easter Egg Hunt offers a chance to connect with like-minded individuals who share the same faith and values. Strengthening these connections foster a sense of belonging and support that extends far beyond the event itself.
Remember to Arrive Early
To ensure everyone has an equal opportunity to participate in the Easter Egg Hunt, we kindly ask all attendees to arrive at least 15 minutes prior to the start time. This will help us organize the event efficiently and allow for smooth transitions between the different activities that await you.
Get Ready for an Unforgettable Easter Celebration
Mark your calendars and invite your friends and family to join us on April 9th at 11:30am for a memorable Easter Egg Hunt at Midtown Church. Experience the joy of Easter in the company of a warm and welcoming community.
For more details and updates, visit our website at http://unitedcity.net/events/2023/04/09/easter-egg-hunt. We look forward to celebrating this special occasion with you!
"The Easter Egg Hunt was an absolute blast! My kids can't stop talking about it. Thank you, United City Church!" - Sarah P.
Keywords: Easter Egg Hunt, United City Church, Midtown Church, Easter celebration, family-friendly event, community gathering, joyful festivities, local charities, memorable experiences